Dear Dancing Friends
Thank you to all those dancers who came to the 2017 White Rose Festival and made it such a great day!
We would like to invite you and your team of dancers to take part in next year's Festival.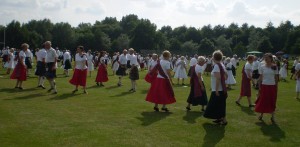 Date: Saturday, 14th July 2018
Venue: The Gateways School , Harewood, Leeds , LS17 9LE
Music throughout to Marian Anderson and her band.
Details of programmes and the booking process will be published on this website in due course.
The committee hopes very much that you will be able to join us and we look forward to seeing you dancing with us.
Yours sincerely,

Jane Walford
Chairman, White Rose Festival Committee